Your yard is the first thing that most people notice when they see your property. At DeMille Turf Farm, we want to get your lawn in top shape and have guests compliment your landscaping. We've provided many property owners different kinds of turfing and sod installation in cedar city, Enoch UT, and the surrounding areas. Your yard needs are covered with us.
Sod Installation and Hydroseeding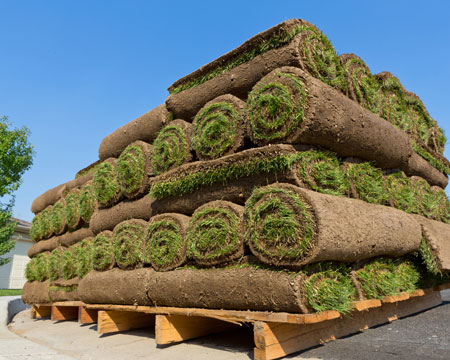 We've provided sod installation services for more than four decades. While we're known for our durable and high-quality sod, we understand that not all property owners want the initial costs of sod. Your needs may vary depending on the size of your property, your budget or how much maintenance you're willing to put into your turfing.
We're happy to carry a variety of products to best meet those needs. Some of the products we carry include:
Kentucky Bluegrass: DeMille Turf Farm is known for having some of the best Kentucky bluegrass in Utah. This sod can be installed to instantly give you that green, healthy lawn you've dreamed about.
Hydroseeding: Combining seed and mulch, hydroseeding can provide your lawn with a neat, thick, green appearance. This is more cost-efficient with larger lawns.
Installing turf is a big project. We can deliver and install your turf for you, so you don't have to worry about it.
Your lawn has many options to look great. If you're looking to give your lawn the best care with sod installation, topsoil, or lawn fertilizer, contact us at 435-586-9797.